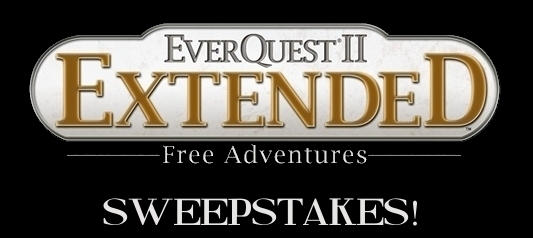 To celebrate the official launch of EverQuest II Extended, ZAM has acquired ten 30-day EQ2X Gold Memberships to give away! Save yourself $14.99, or give it to a friend you've been wanting to show around Norrath.
If you have not already, register on ZAM.com. https://secure.zam.com/login.html?action=new
Come up with a caption for the screenshot posted in this thread and post your caption in the same thread. Off-color is fine, but if you'd keep the language clean enough for our kids to see we'd be appreciative.
Note that there will be two phases to this contest, and two pictures to caption!
That's it!
UPDATE We have received 10 extra 30-day Gold Membership codes which will will be giving away to 10 random people who a) entered the contest and b) did not win a code with a caption!
There will be ten (10) winners. Five (5) gold membership codes will be awarded in Phase 1, and five (5) in Phase 2.
The sweepstakes runs in two phases, which will have different screenshots to caption:
Phase 1: From October 1 when it's posted until 23:59 Pacific Time October 7, 2010
Phase 2: From 00:01 Pacific Time October 8, 2010 to 23:59 Pacific Time October 14, 2010.
Calthine's clock is the official clock!
We don't care where you live. If you can log onto EQ2X these codes will work for you.
You may enter as many times as you like but you can only win once.
Winners will receive a code to be entered in their account on the Station Account Access. Access your account and select "Enter Activation Code".
EQII ZAM Staff will choose the winners. No, we don't need any cookies!
You're welcome to mention your favorites in the contest thread.
Winners will be announced no later than October 11 for Phase 1 and October 18 for Phase 2. Probably before that.
Winners will be posted here and on the EQ2X official forums. Winners will be sent their codes via PM on ZAM. To access your PM's, click "Account" on the main menu bar, then select "Private Messages".
ZAM Staff and their immediate family are not eligible. Sorry, Hubby.
Good Luck!
~~ Calthine & Cyliena
Phase 1 Picture
Cesious: Fansy: "Giants love the good guys! Hooray!"
thegibb: "I merely chewed in self-defense. I never swallowed."
ooter420: "Pardon me, but does anyone have any grey poupon."
Belgereth: "Do not try the patience of dragons, for you are flammable, crunchy, and taste good with ketchup."
ladyp: "Let's get Mikey... he'll eat any thing. Hey... Mikey!"
Phase 2 Picture
balkorotwo: "Never marry a Swashbuckler, she will appear out of nowhere."
panzramhkf: "You left my dragon WHERE?!"
Zelixi: "I told you that armor does not make you look fat, SO LET'S GO!"
highlar: "Come on...cards...again?? Can't we do something else for once? Monopoly? Risk? How about a game of LDoN???"
Sihnna: "WTH! It's your turn to watch the kids! I told you last week I'm raiding with the guys tonight!"
Random Winners
AliceStorm
Coddam
Crolack
Malesh
mcargo2
PratzStrike
Skarii
spiritplx
Tancread
ziabis
This page last modified 2010-10-17 13:11:21.