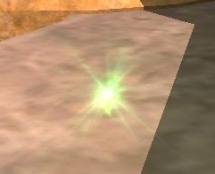 Place the wards at the marked places. They must be done in order. Look for the green shinies.

-247, 360, 621 - near the Grand Farisian Nexus to the east.
-298, 361, 609 - just east of the first.
-275, 375, 623 - up on the ledge to the south.
-282, 371, 592 - up on the ledge to the north.
-253, 356, 600 - down on the first step of the Grand Farisian Nexus.

Return to Researcher Tahar.
14 earth days after you finish this series Researcher Tahar will mail you an artifact, which starts a Tradeskill Signature quest.
Finishing this series will also open up the daily Quel'ule tasks.
This page last modified 2010-03-10 15:03:00.