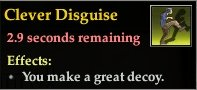 Wilhelm will assume the appearance of a party member! When he does this, the player so copied is stunned and stifled.
| | |
| --- | --- |
| OOC | The name of this character is be a reference to Dr. Horrible's Sing-Along Blog, a 2008 short film written and directed by Joss Whedon. Note the outfit and he uses a "Freeze Ray" spell. |
This page last modified 2014-02-27 09:03:50.